Back to Market and Insights
CIO Update - Russia/Ukraine, Inflation, Rates and Markets
It's been almost three weeks now since Russia invaded Ukraine. Our hearts go out to all the people afflicted by the violence and our admiration goes to the Ukrainians defending their country so bravely. In this note, we offer no predictions as to how and when the war will end. Instead, we focus on the broader impact on the economy, the markets, and our clients' portfolios.
The economic impact – will we see "stagflation"?
The economic impact of the war will be relatively small, as Russia and Ukraine combined make up roughly 2% of the global economy. The damage will mainly be felt through energy and food, where the price increases will act as an additional tax on businesses and households. Fortunately, we came into 2022 with strong growth momentum from the multi-decade highs of 2021, and the hit from the war is unlikely to drag us into a recession, especially not in the United States, which has very little connection with Russia.
The big problem will be inflation. We're at almost 8% in the US, and over 5% in the Eurozone and UK - both are projected to reach 7-8% before declining later in the year. Despite this being another energy crisis, we are not at the multi-year double-digit inflation of the late 1970s / early 1980s. With unemployment low and balance sheets strong, we're a long way from the "stagflation" (stagnating economy and high inflation) of that period. Economies are less energy-intensive and households spend less of their income on commodities than we did back then.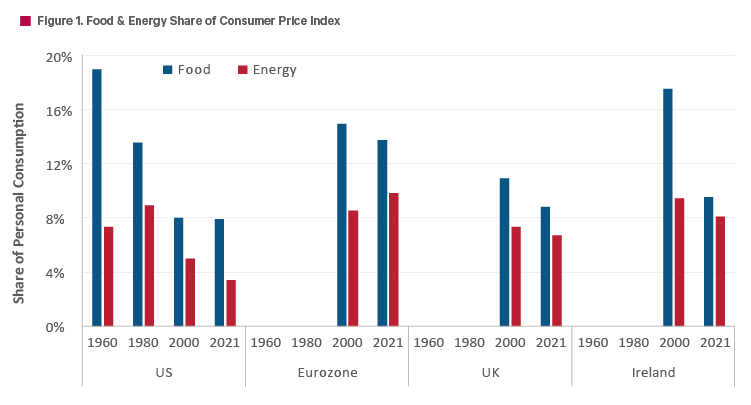 Source: BEA (Bureau of Economic Analysis) for the US, Eurostat for Eurozone & Ireland, and ONS for the UK.
However, if Europe or President Putin decide to cut off all energy trade, this would have a larger impact. With its higher dependence on Russian energy, this could bring Europe much closer to a recession, but not the US or China, the world's largest economies.
The central bank reaction – where will interest rates go?
In the face of high inflation, central banks would typically raise interest rates to cool demand. However, higher rates are not going to stop the war in Ukraine or unclog the supply channels that are pushing up prices. So, what will they do?
Looking beyond the headlines to core inflation, which excludes food and energy, we see different situations in different countries. Core prices in the US are increasing by over 6%, well above the 2% target, and wages are rising fast. Therefore, the Federal Reserve (the Fed) has flagged that it will start to raise rates. The Fed will also release its updated economic projections, which markets will watch closely. The current expectation is for at least six hikes this year, taking the rate to around 1.8%.
Core inflation in the Eurozone is only just over 2%, and growth is weaker, meaning there's less need for higher rates. Despite President Lagarde of the European Central Bank (ECB) appearing to pivot towards a more hawkish stance last week, any rate hikes from the ECB will be slower and smaller. The UK inflation situation is more like the US, and made worse by Brexit, so the Bank of England will continue raising rates, with the market now expecting another 1.5% this year.

Market impact
The stock market was already off to a rocky start this year on fears of sustained inflation and an aggressive rate policy. Commodities were booming, especially oil and natural gas, whilst bond prices fell in anticipation of higher rates. High growth sectors such as technology lagged, while old economy sectors like energy and financials outperformed on higher oil prices and rising interest rate expectations. As a result, the US market fell, while the long-suffering UK market led Europe to out-perform.
Then came the invasion and the markets churned. Energy prices jumped again, and safe havens like the dollar and gold rallied. In equities, the US held up well, while the Emerging Markets fell despite Russia being removed from MSCI and FTSE Emerging Market Indices. At the sector level, energy surged again, but financials dropped as markets forgot about interest rates.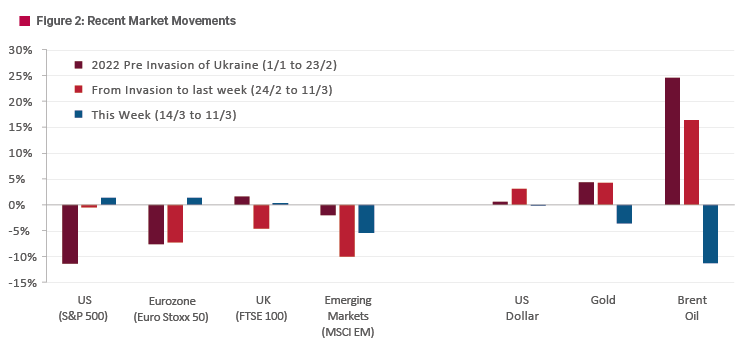 Source: Bloomberg as at 11th March 2022, based on price indices in local currency
Now in "Fed week" (Fed meeting 15th & 16th) with no resolution in sight in Ukraine, the market has shifted focus back to rate hikes. Energy has finally dropped, while financials are rallying again. If there is any lesson here, it's that the market has a very short attention span and trying to time these mood swings is not a realistic investment strategy. Recessions cause bear markets, not interest rates, and most of what happens between recessions is noise.
What should an investor do?
Note that these are generic comments and not a recommendation for any specific investor. Please consult your adviser for advice relevant to your circumstances.
First, we accept that it is very difficult to see how the tragic events in Ukraine will be resolved. But the world has faced many military conflicts since World War 2, and as we illustrated in our last update, returns over the subsequent twelve months tend to be strong, especially if we avoid a recession. Riding out such events is usually the best strategy.
If we don't believe that a recession is likely, then should we use the market dip to buy more risk assets? We have been exploring this path in our discretionary portfolios, but the decline in markets is less than half of what we saw in the COVID-19 crash in 2020, so the opportunity is not as obvious. Also, whatever happens in Ukraine, 2022 was still on course for lower growth and higher interest rates, and with less prospect of governments bailing us out.
Of course, this doesn't mean that we do nothing. If the market decline moves our portfolios away from their target weights, then it's good practice to rebalance. Also, with the growth/inflation shift in mind, we have been looking at the style profile of our equity allocation, with a view to reducing our sensitivity to growth and increasing our resilience. Finally, if the market or policy outlook moves enough, we are ready to adjust our portfolios.
Lastly, for clients who are not fully invested at their target weights, either because they were phasing in or because they were worried about the markets, we've now had several major risks realised. Without making any predictions about the future, a 10%+ drop in markets such as this one is usually a good opportunity to take the next step in.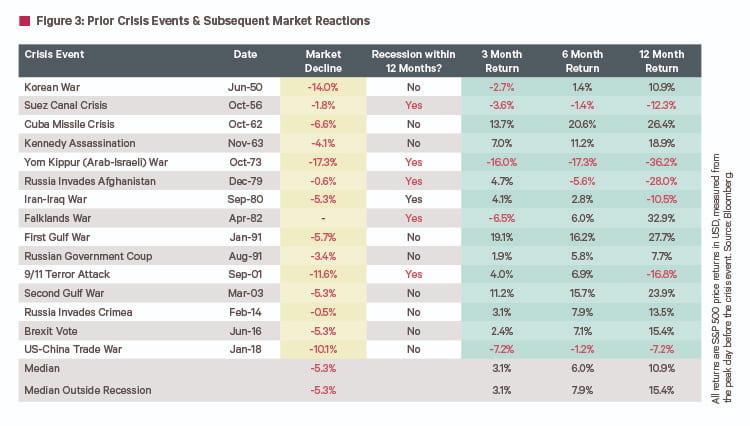 Warning: This article is neither investment advice nor an investment recommendation. It does not take into account the investment objectives, knowledge and experience or financial situation of any particular person and is not an invitation to invest.


You should seek advice in the context of your own personal circumstances prior to making any financial or investment decision from your adviser. Davy UK manages discretionary portfolios in accordance with agreed investment mandates and Advisory clients receive investment advice specific to their circumstances directly from their advisers. Should clients wish to contact their advisers at any time, they should do so in the usual way.
Warning: Past performance is not a reliable guide to future performance. The value of your investment may go down as well as up. You may not get back all of your original investment. Returns on investments may increase or decrease as a result of currency fluctuations.
Warning: Forecasts are not a reliable indicator of future performance
Other articles you may like