Back to Market and Insights
The case for alternative investments
In a multi-asset portfolio, infrastructure investment can offer diversification benefits with the potential to own real assets that generate high-yielding, income-oriented returns and stable, attractive, inflation-hedged total returns.
What is infrastructure?
Infrastructure refers to the basic systems and services that a country or organization needs in order to function properly. Transportation, sewage, water, utilities, road networks, hospitals and universities are all examples of infrastructure.
These systems tend to be high-cost investments and are vital to a country's economic development and prosperity. Large scale infrastructure projects are generally funded publicly, privately, or through public-private partnerships.
Why infrastructure?
There are several reasons why we believe portfolios should have an allocation to infrastructure, both from an individual investment perspective and in a portfolio context.
Diversification – A key consideration for investing in infrastructure is the ability of the asset class to provide returns with low correlations to more traditional asset classes such as equities and bonds.
Essential services resilient to the economic cycle - Infrastructure represents a tangible asset – i.e. a combination of land and structures that constitutes real property. It typically retains a residual value, an attractive characteristic which could help limit portfolio
volatility, particularly in periods of economic decline. Many infrastructure assets operate as government-regulated monopolies. Demand for services such as healthcare are relatively inelastic across the business cycle. The exorbitant cost of duplicating these services means some infrastructure assets enjoy high barriers to entry.
Predictable cashflows - Infrastructure assets tend to be very long-lived with high development costs and relatively low operating costs. Combined with inelastic demand and pricing power, the result is a highly consistent, long term cash flow stream. In addition to this, infrastructure utilisation is often driven by factors such as population growth, demographic trends, and macro trends. These long term, secular drivers tend to make infrastructure assets more valuable over time as they drive utilisation rates higher.
A hedge against inflation - Investments in infrastructure tend to be less vulnerable to unexpected inflation; this is especially true for transport and utilities assets. For example, many private toll roads have prices pegged to inflation, providing a hedge to their income streams.
Fund in focus: HICL infrastructure
UK model portfolios have exposure to Infrastructure through an allocation to HICL, which has been a core holding in portfolios since their inception in January 2013. Portfolios have enjoyed strong returns as result, generating a total return of 84.8% for the period, over 22% ahead of UK equities.
Figure 1: HICL Infrastructure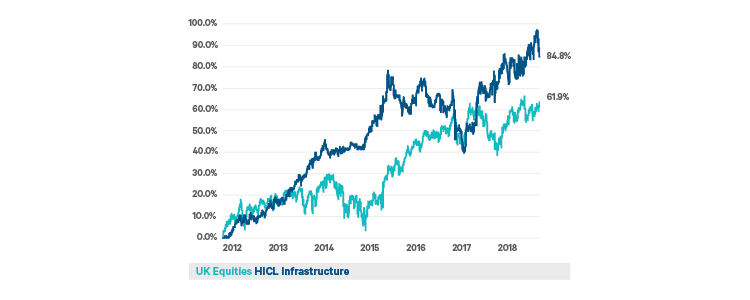 Source: Bloomberg
HICL is a long-term equity investor in infrastructure, managing projects and assets which support communities and facilitate the delivery of essential public services. Their aim is to provide investors with long-term, stable income and to preserve the portfolio's
capital value over the long term. They focus on managing and growing a portfolio of infrastructure investments positioned at the lower end of the risk spectrum.
HICL's diversified portfolio uniquely combines relatively low single asset concentration risk, good inflation correlation and long-dated, predictable cashflows. The market segments targeted by HICL include:
Public-private partnerships (e.g. motorway projects): Companies who design, finance, build, operate and maintain infrastructure to support the delivery of public services, and performance is assessed against contracted quality standards.
Regulated infrastructure (e.g. electricity and water): Companies that enhance, operate and maintain monopoly infrastructure where performance standards and pricing are subject to regulatory oversight.

Demand-based infrastructure (e.g. toll roads): Companies which are contracted to design, finance, build, operate and maintain infrastructure where their usage determines financial performance.
Figure 2: HICL portfolio breakdown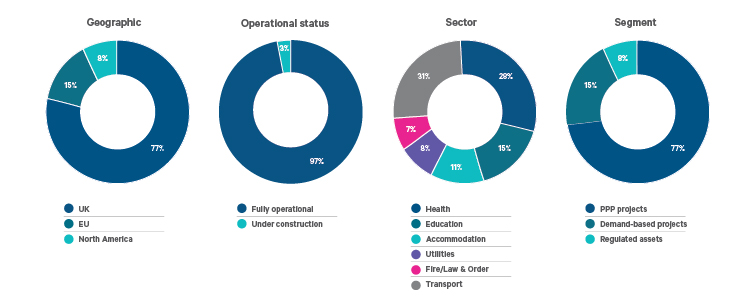 Source: HICL Infrastructure PLC factsheet
HICL's portfolio comprises over 100 investments across multiple international markets. Current investments are located primarily in the UK, but also in Europe and North America. The type of investments varies across a wide range of sectors; from administrative buildings such as the Home Office headquarters in London, university developments which include Belfast Metropolitan College, and healthcare facilities which include West Middlesex Hospital and University Hospital Birmingham. Further afield, the HICL portfolio contains diverse holdings which include the Royal Canadian Mounted Police Headquarters in Canada and Paris-Sud University in France.
Warning: Past performance is not a reliable guide to future returns and future returns are not guaranteed. The value of investments and of any income derived from them may go down as well as up. You may not get back all of your original investment. Returns on investments may increase or decrease as a result of currency fluctuations.
Warning: The information in this article is for illustrative purposes only and does not purport to be financial advice as it does not take into account the investment objectives, knowledge and experience or financial situation of any particular person. Private equity investments can be illiquid and long-term in nature. You should seek advice in the context of your own personal circumstances prior to making any financial or investment decision from your wealth manager.