Back to Market and Insights
How do we build robust, goals based, portfolios?
For clients invested in multi-asset portfolios, understanding the different elements of your portfolio can be quite daunting. We understand that not everyone shares our passion for investing but we do not think that complexity should be what holds you back from knowing about what you own and why. To keep things simple, we have segregated what we believe are the key drivers of risk and return in your portfolio into quadrants. This visualisation captures the different levers within your portfolio and can give you greater clarity and context for what we mean when we talk about our current positioning.
If you would like to hear more about how our team of investment experts can help you build an investment strategy to meet your goals, please contact our office on +44 (0) 2890 310 655 and request a call with one of our Davy UK Wealth Managers.

The portfolio creation process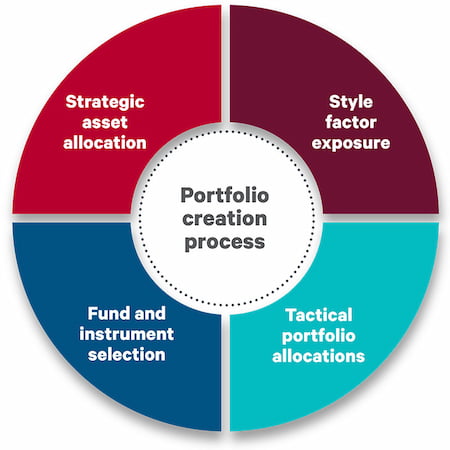 To read more about the four sections of the portfolio creation quadrant, click on the articles below.
WARNING: The information in this article does not purport to be financial advice as it does not take into account the investment objectives, knowledge and experience or financial situation of any particular person. You should seek advice in the context of your own personal circumstances prior to making any financial or investment decision from your own adviser.

WARNING: Past performance is not a reliable guide to future returns and future returns are not guaranteed. The value of investments and of any income derived from them may go down as well as up. You may not get back all of your original investment. Returns on investments may increase or decrease as a result of currency fluctuations.